Scholarship Fall 2023 Winner Ethan San Miguel
Fall 2023 Behan Law Group Military Veteran Scholarship Winner
Each semester, The Behan Law Group offers an award of $1,000 to support the higher education of military veterans, current service members, and their children. Our scholarship also requires the applicant to submit an essay discussing how their experience affected their academic and career goals and they plan to use their education to positively impact their community.
Ethan San Miguel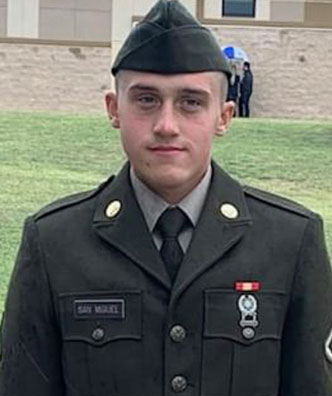 Oregon State University senior Ethan San Miguel, has been selected as one of the winners of our Military Veteran Scholarship. Ethan is a member of the Army National Guard and is trained as a combat medic. We wish Ethan the best of luck as he pursues his nursing education.
Read Ethan's Essay:
I love you more than the moon, the night sky, and the stars above, for you are my sunshine and you bring light into my life every day. I said this to my triplet six-year-old foster siblings every day before I went to school and then to my two jobs directly after classes. My family doesn't have a lot of money, in high school I worked at my foster siblings' daycare to help my mom, a retired police officer, afford childcare and to help pay the bills. My foster siblings, who are my cousins, lived with my mother and me because their parents were drug addicts who abandoned them at a grocery store in the freezing cold. My mom's entire family has serious problems with drug abuse. Growing up I often spent cold nights sleeping in a parking lot, talking to family members through self harm abuse, and attending AA resource meetings as a sponsor. DHS told us that my cousins were going to be separated hours across the state if we didn't take them in as their last remaining family. We took them in without any hesitation, but the money from DHS wasn't enough to feed our family with my mom retired. I had to get two jobs while a student to ensure my family didn't go to bed hungry, had clean clothes, and were warm at night.
I went to school from 9 am to 3 pm, then I went to work at a daycare from 3:30 pm to 6 pm, then I delivered fast food from 6:15 pm to 10 pm, and in the time before school started the next day I did my homework. This schedule was every weekday and weekend, I could barely fit in time for Boy Scouts, schoolwork, and spending time with my family; I knew this wasn't sustainable. I thought I had no other choice but to avoid going to college to help support my family, that was until I met my Army National Guard recruiter outside of a local strip mall. My father was a veteran of the Iraq War and did several combat deployments across the world as an officer with the 141st Infantry Division and First Cavalry. I always wanted to carry on the tradition he left for our family. Nearly three weeks after I met with my recruiter I enlisted in the Army National Guard as a combat medic. I wanted to earn my EMT license so I could provide while in school, get a scholarship, use my benefits to support my family, and to serve my country in protecting the lives of my countrymen on the battlefield. I left for basic training on August 15th and finished medic training on March 3rd, all the money I earned I sent back home to ensure that my siblings grew up having all the resources I never had as a kid.
I never would've imagined that I would be able to attend nursing school, become an EMT, be able to support my local community, and to provide for my family. If I didn't join the Army, I would still be delivering fast food and working dead-end jobs to make ends meet for my siblings and my mom, my siblings may be still living in a car in the freezing nights as well. I never would've been able to pursue a meaningful job in which I can help children like my siblings and drug addicts like my extended family find meaning in their lives and enjoy the short time we all have as a nurse. Being a combat medic and serving my community in forest fire preparations, serving in an MP unit during dangerous riots, and mentoring recruits in RSP have given me the strength to never falter whenever life gets hard. These experiences have given me a passion to help other families struggling with mental health and medical issues, like my mother's retirement from the police. I honestly don't know if my family would still be together and have food on the table and clean clothes on our backs if I didn't enlist.
Currently, I am finishing my prerequisites for nursing school near the top of my class with a 4.13 GPA, working full time as an EMT, working as a medic in the National Guard, and finding time to fit in the small and meaningful moments with my foster siblings while they're growing up. With my education, I plan to become a new graduate nurse in my town's NICU where my triplet foster siblings spent the first three weeks of their lives as struggling premature babies born to drug addicts. I eventually would like to become a CRNA in the Army to take away the pain of those truly struggling in all corners of the globe, much like the pain my mom suffers from as a retired officer. As I enter my sophomore year I now have a purpose, I have a loving family and my brothers and sisters in the military who I would run out on a battlefield and sacrifice my life for.
I'm grateful for everything the Army has given to me: the memories, my family in uniform, and the inability to run away from danger are only some of the many experiences I have learned while serving. Being a service member is an honor I will always be proud of. I am beyond blessed to serve this country and to medically help all those who call our amazing country home. I look forward to the experiences ahead while serving and the challenges I will overcome in my civilian and military careers. I wish to direct those struggling in life to follow a path of service and honor in helping others by being there to defend our country in the darkest of times. My path in life may be long and difficult, but I wouldn't want it any other way as I am proud of who I am today and my journey.