Attorney Michelle Behan Argues DUI Case Before Arizona Supreme Court
On February 7, 2019, Attorney Michelle Behan presented arguments before the Arizona Supreme Court in a case involving a DUI arrest. In the case of Diaz v. Hon. Bernini, et al., Ms. Behan argued on behalf of a woman arrested and charged with driving under the influence (DUI) in Tuscon.
This case involved the question of whether requests by police officers to perform testing of a driver's blood alcohol concentration (BAC) following a DUI arrest constitutes coercion. The defendant in this case, Ms. Diaz, had been arrested for DUI and was read an admonition by officers stating that drivers who operate a motor vehicle in Arizona give implied consent for BAC testing, and refusal to submit to testing will result in the suspension of a driver's Arizona driving privileges. While Ms. Diaz agreed to testing, she argued at trial that her consent was not voluntary and asked to have the results of the test suppressed.
Top DUI Attorneys Join Forces in New Tucson, Arizona Law Firm
The Behan Law Group, P.L.L.C. created by two top rated lawyers with unique legal and law enforcement backgrounds.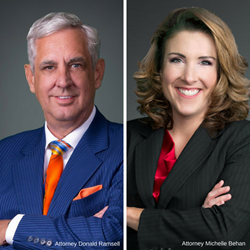 I am excited to open this new firm with Michelle, and provide clients with a superior level of service and representation - Attorney Donald Ramsell
Law partners Donald Ramsell and Michelle Behan announced they are combining their legal experience and knowledge to create the law firm, The Behan Law Group, P.L.L.C. in Tucson, Arizona. Focused on providing representation to individuals charged with DUI and other criminal offenses, the partners bring a wealth of courtroom knowledge and case success to the table.
Mr. Donald Ramsell is a highly-regarded DUI and criminal defense attorney with more than 30 years of experience. Mr. Ramsell has argued a number of high profile cases over the years that resulted in major changes in how DUI cases are pursued and prosecuted. He is a prominent member of a number of industry organizations, author of several books and articles addressing the nuances of successful DUI defense, and a frequently sought-after speaker on the subject at seminars and workshops across the country. Mr. Ramsell is widely acknowledged throughout the legal community as having almost single-handedly recreated the way in which attorneys defend DUI charges. He is a 1984 law school graduate of DePaul University, Chicago, Illinois.