The Behan Law Group Announces Fall 2022 Military Veteran Scholarship Winners
The Behan Law Group Announces Fall 2022 Military Veteran Scholarship Winners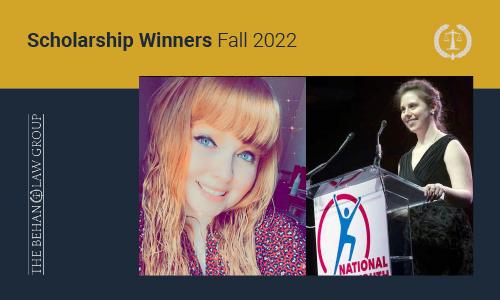 The Behan Law Group is proud to offer $1,000 scholarships each semester to support veterans or the children of veterans in their goal of pursuing higher education. We are pleased to announce the winners of our scholarship for the Fall 2022 semester.
The winners are U.S. Army Reserve Veteran Summer A. Hill and Lena Allen, a former police officer who now works for a defense contractor in cyber security. Both young women have incredible personal histories of serving their communities through military or law enforcement service and activism.
Summer Hill served in the U.S. Army Reserves for five years, and she sustained injuries that left her struggling with chronic pain. She currently attends Arizona State University. Lena Allen already holds a Secret Clearance due to the cyber security work she performs while attending the University of San Diego. In addition to her impressive career resume, Lena is an activist fighting against domestic violence and sexual assault.
The Behan Law Group Military Veteran Scholarship is open to U.S. military veterans and their children who are currently enrolled in or have been accepted to a graduate or undergraduate program at an accredited college or university. Applicants must submit a 500 to 1,000 word essay answering the prompt: "How has your experience as a Veteran or the child of a Veteran influenced your academic and career goals? How do you plan to use your education to make a positive impact in your community?"
The Behan Law Group supports our military veterans and their families, and the firm's attorneys and staff members are excited for this opportunity to further the educational goals of these students. The program is now accepting applications for the Spring 2023 semester.
About The Behan Law Group
The Behan Law Group is a criminal defense law firm focusing on DUI, Domestic Violence, and drug offenses. Attorney Michelle L. Behan is herself a decorated military veteran who served in the U.S. Navy. She is also a former FBI Special Agent who now uses her unique insight into law enforcement operations to better serve her criminal defense clients.
To learn more about the Behan Law Group, please visit: https://www.missduiarizona.com/.
Students may apply for The Behan Law Group Military Veteran Scholarship by visiting: https://www.missduiarizona.com/military-veteran-scholarship