Scholarship Spring 2023 Winner Andrew Bacon
Spring 2023 Behan Law Group Military Veteran Scholarship Winner
Each semester, The Behan Law Group offers an award of $1,000 to support the higher education of military veterans, current service members, and their children. Our scholarship also requires the applicant to submit an essay discussing how their experience affected their academic and career goals and they plan to use their education to positively impact their community.
Andrew Bacon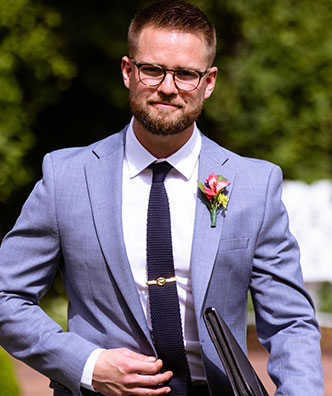 Law school student Andrew Bacon has been named a Military Veteran Scholarship winner for spring 2023. Andrew, who is a Veteran of the United States Marine Corps, is incredibly passionate about servitude and aspires to make a true difference by helping other Americans. Read Andrew's essay to learn more about his story and ambitions.
Read Andrew's Essay:
Service. Being a Veteran.
God, Country, Corps. For three months I recited those words every night, and for the rest of my life, they are inscribed on my body. Meant to encompass all of what you need to focus on throughout your time in the service, those three words left no room for I or me. Reordering my basic needs to go behind the mission-essential requirements has never left me.
Since my time in the Marine Corps has ended, I have never stopped seeking out other ways to be of service to my fellow Americans. Initially, I funded a start-up clothing and apparel company that donated to multiple 501(c)(3) charities for veterans in need. I was happy with the difference I had been making until September 14, 2018. Right after Hurricane Florence landed on the shores of North Carolina, a place I called home for four years, I drove over six hundred miles down to help. After those two weeks volunteering with Samaritan's Purse and The Red Cross during the initial aftermath, I knew I had to return to make a difference in my country. Less than two months later I was enrolled at the University of Denver.
Unsure of how I could still serve my country with as much relatable job experience as an M4 provides, I double majored in Psychology and Criminology. I wanted to understand the nature of why crime occurs. I had combined the independent, developmental, and neurological impacts I would discover through Psychology with the sociological and societal insights that Criminology provided. This led to a well-rounded idea of why crime occurs and an opportunity to continue my dedication to Americans.
Forgoing my college graduation ceremony and any aspirations of Federal Law Enforcement, I headed east to join the ranks of fellow police officers in a city with some of the highest crime rates in the country, and a place where I would put what I learned to use. For the past year, I have had the hardest job in the world and yet it has been the most rewarding time of my life. Saving lives, protecting others, and making a real difference in each tour of duty has been the greatest fulfillment of duty since my time in the Marine Corps Infantry. But my largest act of service for this country is yet to come. Shaping legislation through advocacy.
I now return to the University of Denver as a Juris Doctorate Candidate with more drive and ambition than ever before. As I enter my 1L this August and embark on the most difficult intellectual challenge in all of academia, I have one purpose. To make the most positive difference, in the largest way, for the most Americans possible. Being a veteran has left me with an inability to run away when I hear fellow countrymen in danger or look away when I see our country's problems. Instead, I wish to direct the struggles, hardships, and sacrifices to rain over me in order to preserve life, liberty, and the pursuit of happiness for the masses to relish. This is my life, this is my future, this is the story of me.